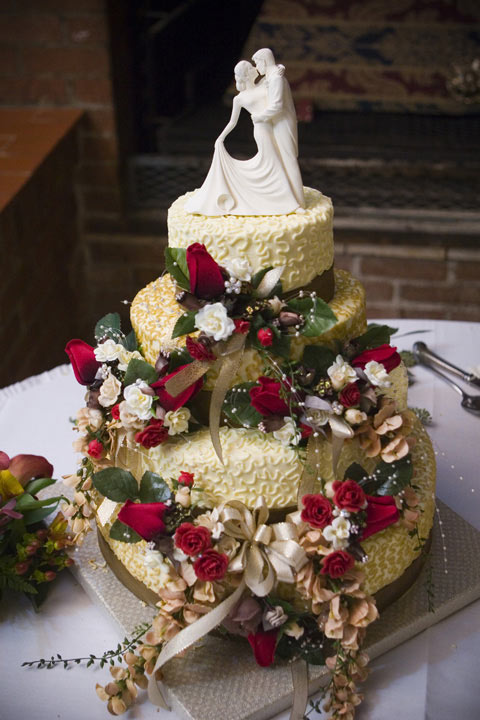 Taste

Who doesn't recall a richly frosted piece of wedding cake that was simply scrumptious? Even though your choice of cake and frosting can't please everybody, you can make sure your choices are your partner's as well, then do your best to choose a crowd pleaser!

* White or Yellow Cake. The most traditional wedding cake flavor is white or yellow cake. To take it up a notch, you can add filling between layers, and here you have a variety of choices, such as custard, milk chocolate, butter-cream, raspberry, strawberry jam and apricot preserves.
* Chocolate Cake. Many wedding guests love chocolate cake and brides are finally serving it more often, even though it may be concealed under traditional white frosting. Better yet, many brides are going for the "double-double" decadent treat--chocolate cake, chocolate filling, chocolate frosting and chocolate ornament!
* Marble Cake. A marble cake can be your answer to try to please all, and each cut piece can make a beautiful display on its plate. Another method for people pleasing is to alternate layers or tiers with chocolate cake and white cake.
* Lemon Cake. For variety, a refreshing lemon cake may fit with your overall wedding style, especially as you may have the color of lemons as a part of your color scheme. Yellow can be more appropriate for a spring or summer wedding.
* Carrot Cake. A fall or winter wedding can be the opportunity for a carrot cake. Keep in mind that the traditional cream cheese frosting found on carrot cake is going to be cream colored rather than pure white.
* Fruit Cake. In the United Kingdom, the traditional wedding cake is a rich fruitcake. It was the cake of choice for the 2011 wedding of Prince William and Kate. It is not a dense cake, but the traditional English version is, nonetheless, packed with dried fruits and chopped nuts and brushed with brandy. It is usually topped with Royal Icing which seals in the freshness of the cake.
* Royal Icing. Due to the smooth and beautiful look of Royal Icing, it is often used for decorative wedding cakes and to create delicate decorations on the cake, such as a monogram. As it does not have as pleasant a taste as marzipan or traditional soft icings, it is not recommended for icing cakes, unless cake stands are used. This is because after Royal Icing dries and hardens, it tends to crack easily.
* Fondant. This is rolled into thin sheets and placed on cakes for a very smooth finish. Fondant makes an excellent base for decorations, and is chosen more for looks than flavor so you may want a more delicious layer of frosting underneath it.
* Marzipan. An almond paste, Marzipan is also rolled into thin sheets and glazed for icing cakes, primarily wedding cakes. This use is particularly common in England, on large fruitcakes. Persipan is a similar, yet less expensive product, in which the almonds are replaced by apricot or peach kernels. There are German, French and Spanish variations of Marzipan.
Cake-Cutting Measures
Depending on the size of your reception, wedding cakes can cost hundreds into thousands of dollars. One way to have a show-stopper on a limited budget is to order a smaller tiered cake for display and cutting, while you have a sheet cake in the kitchen where it can be sliced and then served. A spunky alternative is to have a cupcake wedding. Displayed on a tiered stand, cupcakes can be offered in multiple flavors with a variety of decorations. Of course, a small, tiered cake can be on display and cut in ceremony. So, don't let your budget limit the role your wedding cake can play in your wedding. It will be unique to your special day. Whether traditional or themed, your wedding cake will have a wondrous look and a scrumptious taste that will be a memory for a lifetime.